As most of you know, I host a linky party here on my blog every Saturday. Today I wanted to invite you to another linky party...I join this shop hop twice every month. It's a great place to "advertise", and just a fun place to be, so click on the box below and join me there.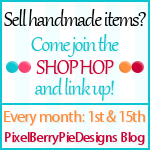 Also, Amanda and I would like to ask all our friends for some advise. We are going to start this New Year with a new website, and shops, and a total re-brand! So, what do you think would be a good new name? I was looking for something shorter (to fit on my car windows, lol) and easier to remember, and that tells people just what we are about...so I was thinking
1.) HomeCrafts (not available as a (dot)com )
2.) OurHomeCrafts (available as a (dot) com)
3.) OHTY
4.) Ourhometoyourscrafts (too long?)
So, please leave a comments and let us know what you think....and if you have any other suggestions, please share them with us!
Thanks for being our friends, and we love you!
Debbi